SHOPMACHER is climate sponsor at NFQ Summit 2023
SHOPMACHER and Web Wikinger GmbH have joined the NFQ Summit 2023 as a climate sponsor. Through the sponsorship contribution, the Joy Foundation organization has planted 1,000 new trees.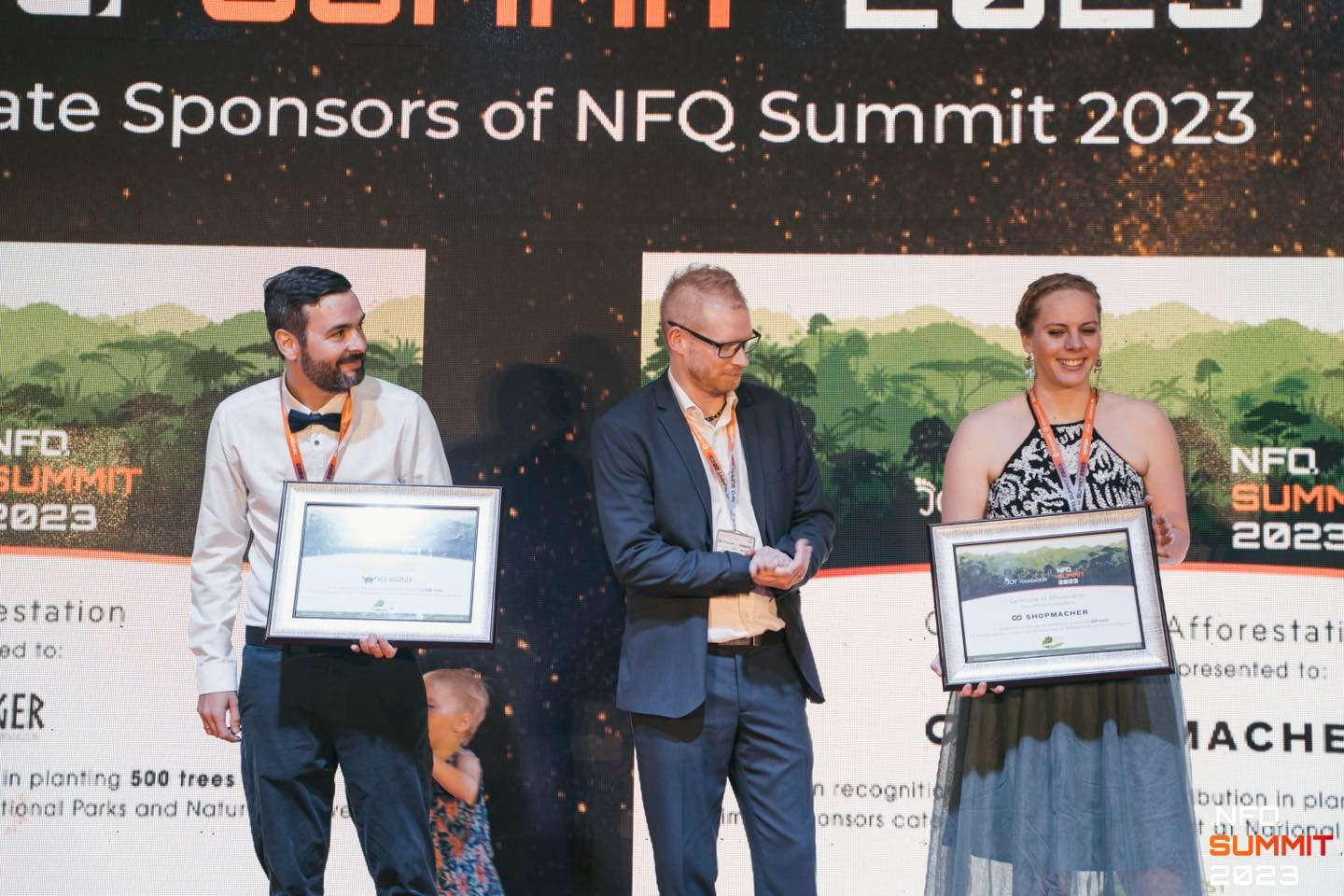 Certificates were presented to climate sponsors at the 2023 NFQ Summit.
The NFQ Summit is hosted annually by our partner NFQ and this year was held in Ho Chi Minh City from January 7-13. More than 30 international companies – from successful e-commerce companies to promising start-ups attended the event and exchanged views on current technology and business trends.
Joy Foundation is a non-profit organization in Vietnam. The organization's goal is to improve living conditions, promote development and connect the community through sustainable projects in various areas: clean water, medical treatment and the environment. Since 2009, the projects have helped more than 45,000 people.
About the Forest Garden project
Since 2020, in addition to the Clean Water and Health Care projects, Joy Foundation has been officially implementing the FOREST GARDEN project on the land of local farmers.
Vietnam's forests were severely damaged, resulting in record drought in the Central Highlands and Mekong Delta, and flooding of unprecedented proportions in the central region. Joy Foundation has implemented the forest garden project with the model of intercropping many species of forest trees in agricultural crops to help restore the destroyed forests. This can reduce the impact of natural disasters and regulate climate change, while strengthening and developing the economic capacity of communities and people involved in forest protection and development.
In 2022, Joy Foundation planted 44,000 forest trees with the participation of 4,910 people and 33 companies / organizations, bringing the total number of trees planted to 71,000 forest trees on an area of 118 hectares in recent years. In 2023, Joy Foundation will continue the forest garden project and is expected to plant at least 40,000 more forest trees.