How a mattress discounter sets the benchmark for contemporary mattress retailing on the web
The Shopmacher have received three high awards for their work in the eCommerce activities of Matratzen Concord. At the Shop Usability Award, one of the best-known and most coveted e-commerce awards in Germany, there were winner awards for the Matratzen Concord platform in the categories "Furniture and Living", "Best Discounter" and as the overall winner for the best shop among more than 700 competitors.
Matratzen Concord has been advising its customers individually and competently on all aspects of good sleep for over 35 years. As Europe's largest specialist for mattresses, the company offers the right sleeping solution for everyone. Matratzen Concord operates more than 600 branches in Germany, Austria and Switzerland. Customers benefit from many years of product knowledge and expert advisors.
New players such as Casper or Emma Mattresses have revolutionized the online mattress shopping experience in recent years and made sleep a lifestyle issue. The mattress discounter Matratzen Concord counter-attacked with the relaunch of its online shop. The aim was to offer customers the best possible service and the best possible shopping experience online. A modern concept for the web shop was developed together with 200 stationary retailers.
White mattresses on a white background – this is what many online shops that sell mattresses look like. Mattresses Concord's claim was to guide the customer better. To do this, the e-commerce team integrated a range of services that had not previously existed in online mattress shops:
Speaking product lists : The product lists already tell the customer, using intuitively understandable seals, which mattress is suitable for stomach or back sleepers, which offers a particularly exciting price-performance ratio, which can be delivered particularly quickly or which is particularly recommended by the Matratzen Concord consultant.
Mattress finder : If you need more advice, you can use the mattress finder. Like a stationary salesperson, this also asks for customer data such as height, weight, preferred sleeping position, desired firmness and any back problems and within a few seconds provides three suitable suggestions in the price segments "good & cheap", "medium priced" and "premium".
Price negotiation tool : Anyone who buys a mattress from Matratzen Concord in the store does not always pay the excellent price. Instead, negotiate with the seller. Matratzen Concord has transferred this stationary shopping experience to the online shop. Customers can suggest a price online – and thus enter into dialogue with salespeople from the stationary stores. This feature has increased conversion rates tenfold.
With the relaunch, Matratzen Concord has set the benchmark for contemporary online mattress trading. This is proven by the numerous prizes that the online shop has won, including three "Shop Usability Awards" and one "Shop Award" from the trade journal INTERNET WORLD BUSINESS.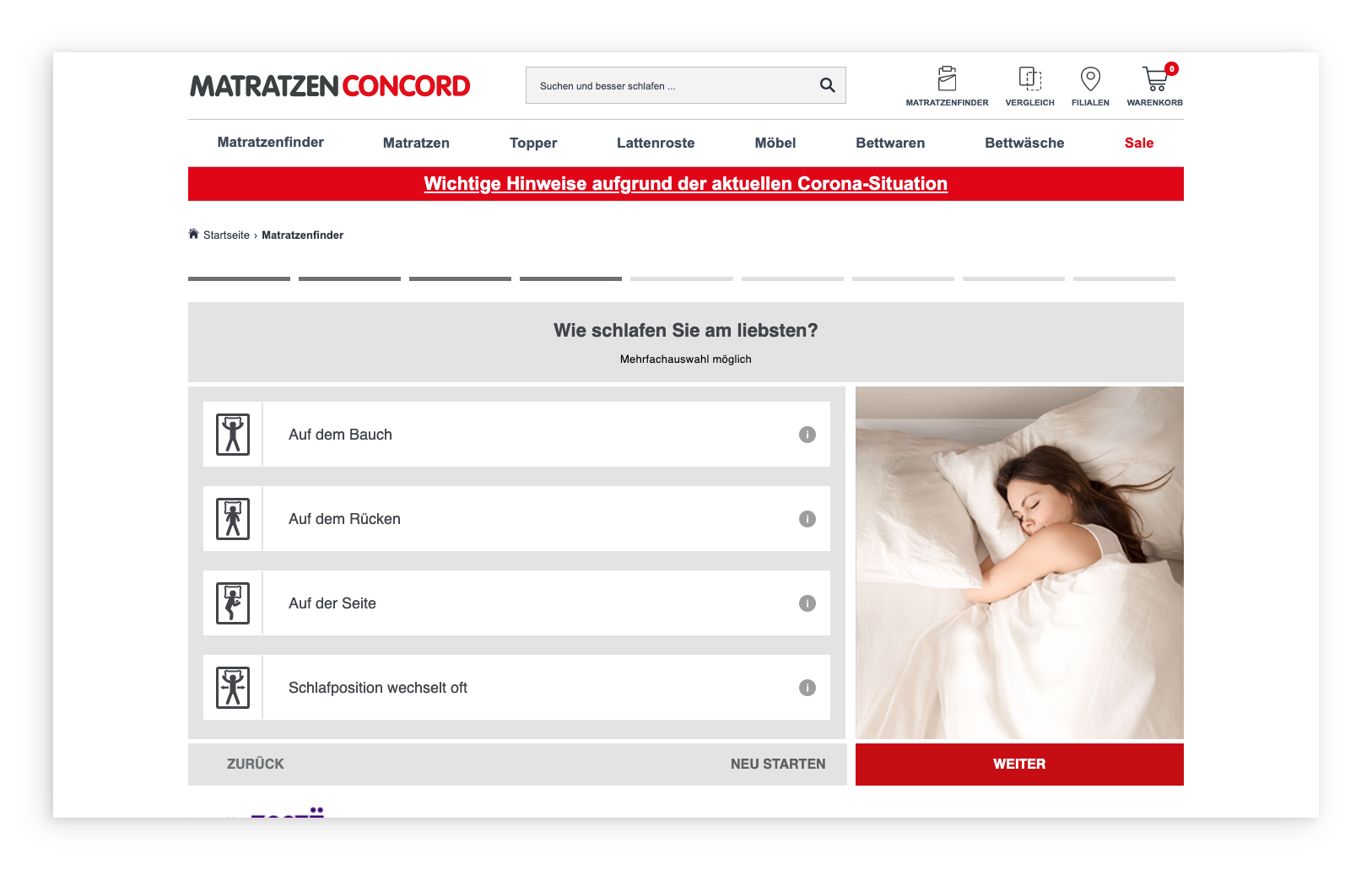 B2C online shop for mattresses
Consulting system architecture
Technical conception & requirements management
Implementation frontend and backend
International roll out
Technical support since launch
Shop system: Oxid 6 Enterprise Edition
Search: Elastic Search
Editor: CommerceCockpit
Media management: meleven
Middleware: Roqqio