Exclusive Shopmacher team at the office partners
For more than 20 years, the office partners from Gescher in Münsterland have developed into an internationally renowned player in the field of office technology. With around 130 employees, the office partners provide their customers with office technology: printers, supplies, monitors, notebooks, PCs, beamers, smart signage, networks, servers. In 2020, Office Partner commissioned the company Shopmacher, also based in Gescher, with the further technical development of their central online shop. The e-commerce experts are now even putting together an exclusive four-person team that has been providing intensive support to the office partners since the beginning of 2021.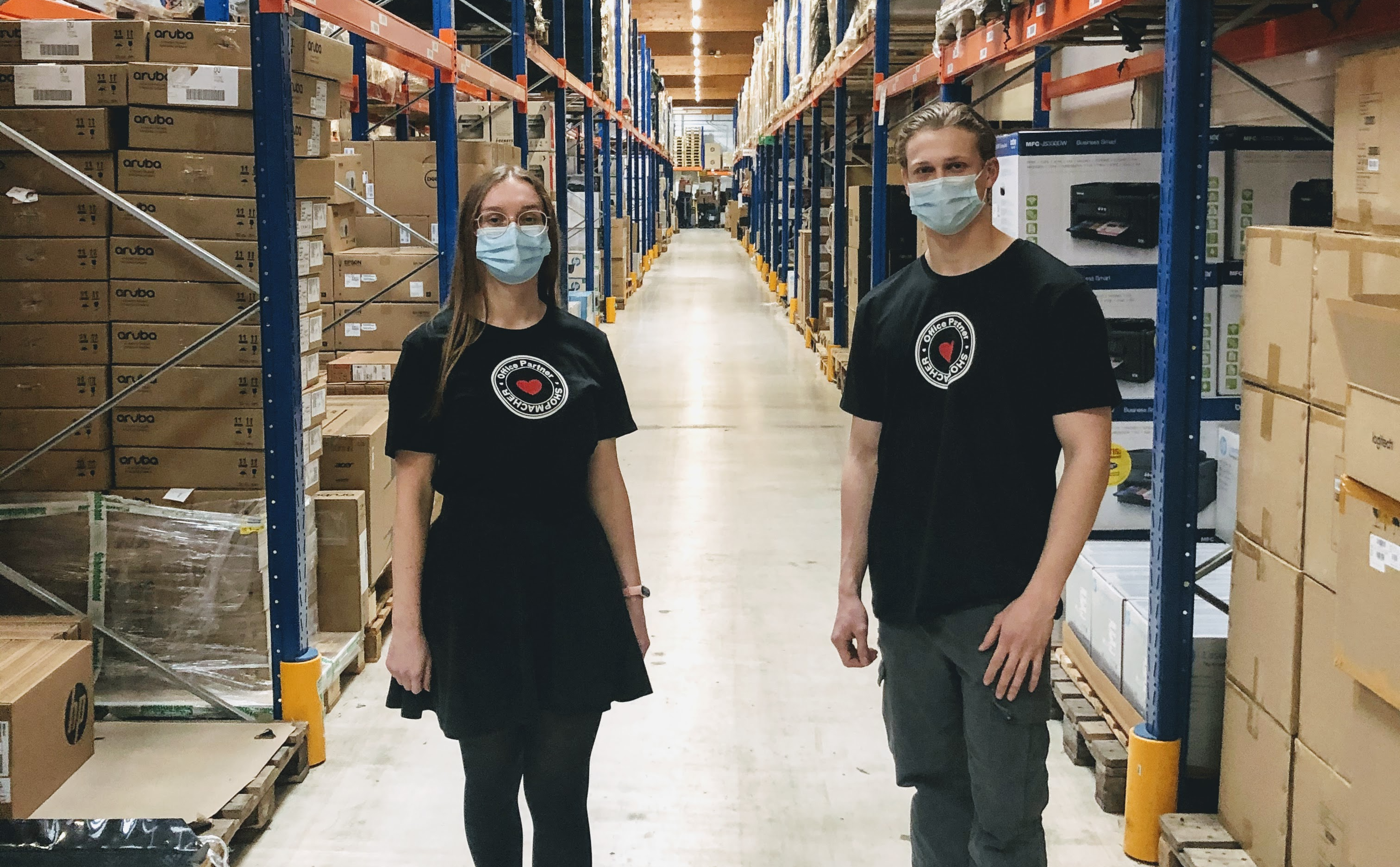 Apprentices F. Heselhaus and L. Tekstra, part of the team realigning the shop system.
DIGITAL SALES TECHNOLOGY HAS TO KEEP PACE WITH GROWTH
Office Partner faces the great challenge of harmonizing growth in and with the corporate structure and culture. This includes maintaining sufficient storage and logistics structures, continuous recruitment, employee and customer communication and also the constant development of online sales technology. A rewarding task in a flourishing overall situation: "In 2020 we achieved sales of 141 million euros, growth of 41%," explains Sven Osterholt, operational director of Office Partner.
"In terms of e-commerce, we are fortunate to have found a partner right on our doorstep in Shopmachern, who has established itself over the years as a specialist in the further development of transaction-oriented commerce platforms," adds Corinna Vinkelau, e-commerce project manager at Office Partners. "In addition, the Shopmacher specialize in optimizing digital sales structures in both the B2B and B2C sectors. This fits in perfectly with the constantly changing market requirements in our industry."
NEED FOR OPTIMIZATION IDENTIFIED IN THE E-COMMERCE HEALTH CHECK
At the beginning of 2020, the Shopmacher put the Shopware shop system from Office Partner – nomen est omen – through its paces in a first health check. The IT professionals delve deep into the structure of the system, which was previously unfamiliar to them, test the programming and check its functionality and quality. It is a microscopic approach that provides certainty about the complex system and thus serves as the foundation for any construction work. Based on a retainer model, they then first solved the most important technical challenges and then developed a complete redesign of the two customer shops office-partner.de and 365tageoffen.de. Further work on the system architecture is planned for 2021, which thanks to the exclusive Shopmacher team will be secured until the end of the year.