Say what you mean – and do what you say
"New Work" is one of the most frequently heard buzzwords in the course of work in times of digital change. "New Work" is actually not that new: At its core, it is about seeing the employee as a person with all their worries, needs and living conditions – and taking these into account when designing their working conditions so that they can feels comfortable, enjoys doing his job and accordingly performs excellently for the company. And that a motivated employee obviously performs better was already known 100 years ago!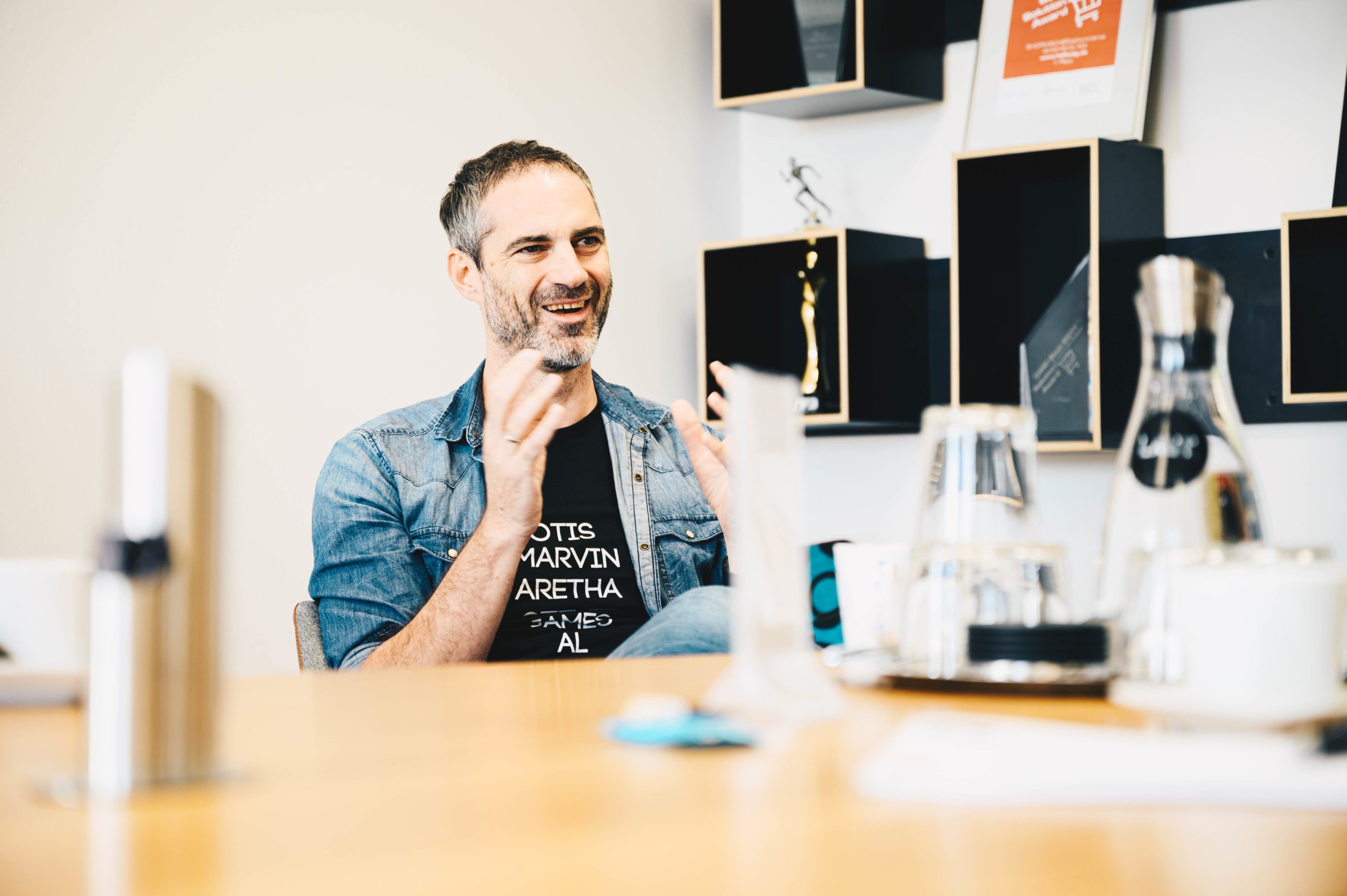 André Roitzsch, CEO of Shopmacher
Rather, what is new is that in the current rapidly changing world of work, the importance of motivated employees is increasing. Because a purely repetitive activity, such as working on an assembly line in the past, can perhaps still be accomplished with moderate motivation, or with a motivation that is generated extrinsically by pressure and concern about the job necessary to make a living.
But these repetitive activities are falling away more and more, and the need for creative employees is growing. (see R. Ziegenbein: Creativity is the key competence of the future) And it is precisely these employees who perform best when they are intrinsically motivated, when they associate their actions with meaning, when they are valued, when they feel good about their work. What is new about the New Work approach is not the approach itself, but that without this perspective, today and in the future, it will be difficult to attract highly qualified specialists, let alone retain them – and in no case will it be possible to motivate them to perform at their best. And that's why the concept, which was developed by the social philosopher Frithjof Bergmann in the 1970s under the term "New Work", will become increasingly important in the future.
However, the whole thing misses the mark if it is reduced to a few buzzwords that are simply en vogue at the moment – without changing the underlying attitude in the management of a company and the view of the employees and their needs.
For example, if I enable a software developer to work from home because it's popular, then that alone isn't New Work. And then when I trust him so little that I measure his productivity at home by counting the lines of code he writes and comparing it to what he creates at the office, that's pretty much the opposite of what is meant by New Work. It probably doesn't increase his motivation either.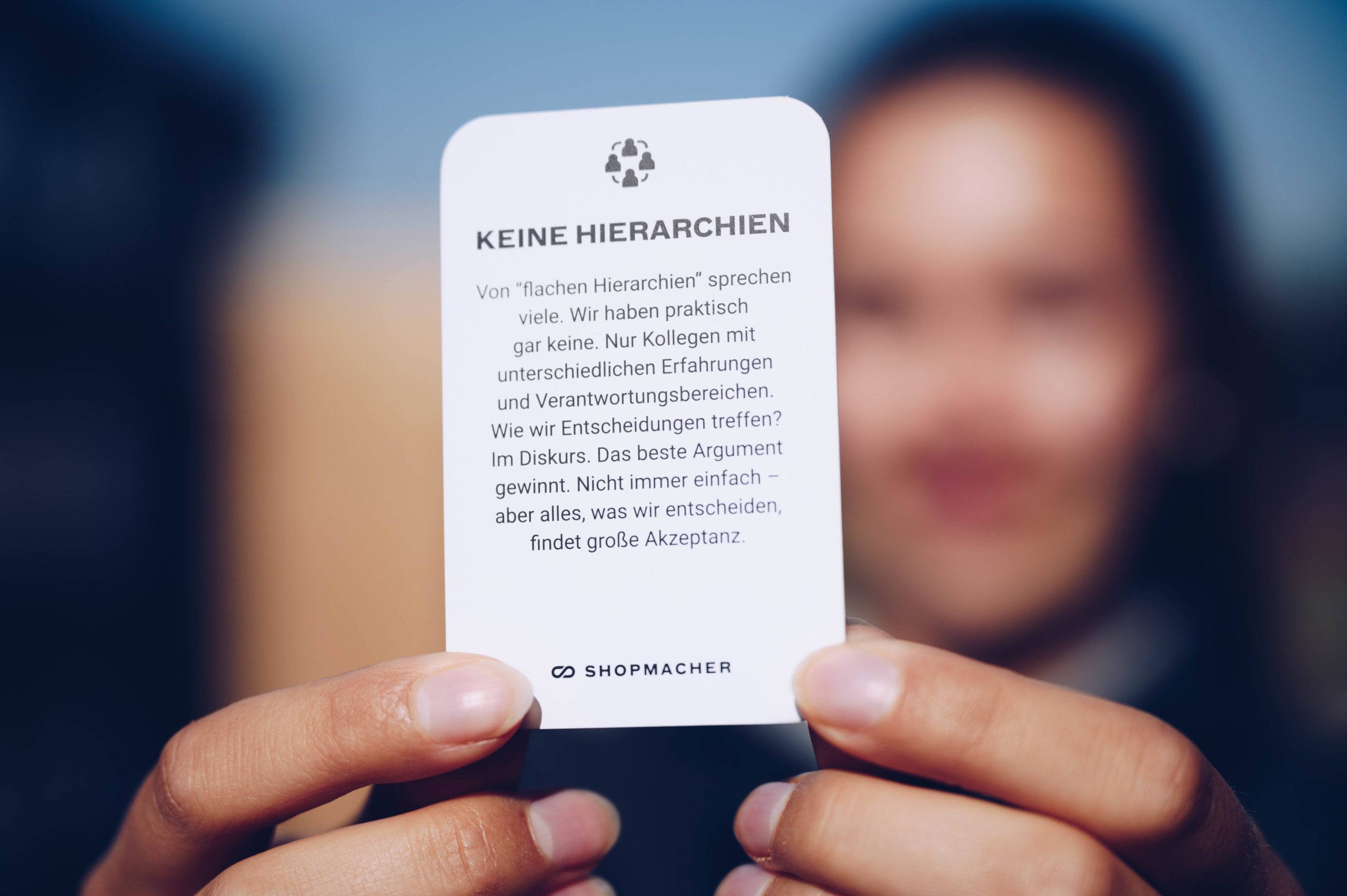 There are other examples that can be found in supposedly up-to-date job advertisements or in statements by HR managers. At first they sound like New Work, but they remain hollow phrases: Transparency, co-determination, working in a self-organized team are important "artefacts" of the New Work concept – but as terms they are very flexible: What does "transparency" actually mean?
I might still be able to attract motivated employees with these catchphrases – but I certainly won't be able to keep them for long without the substance behind them – and they won't be particularly motivated either if the "sales promises" of my employer brand turn out to be lip service. Anyone who develops software in "sprints" is far from being "agile" with that alone.
Authenticity is therefore much more important for an employer brand than New Work Bullshit Bingo. As an employer, I really have to say what I mean – and then do what I say. Then I get the employees who see it the same way I do – and they stay because I played with my cards open. Hence my recommendation: Every employer should check their job advertisements to see whether what is written there is correct or whether they find empty phrases and commonplaces such as "teamwork", "communicative" or "shaping the future".
Finally, a few examples of New Work content that we have found to motivate our employees – but only because we really think it's the right thing and do it that way: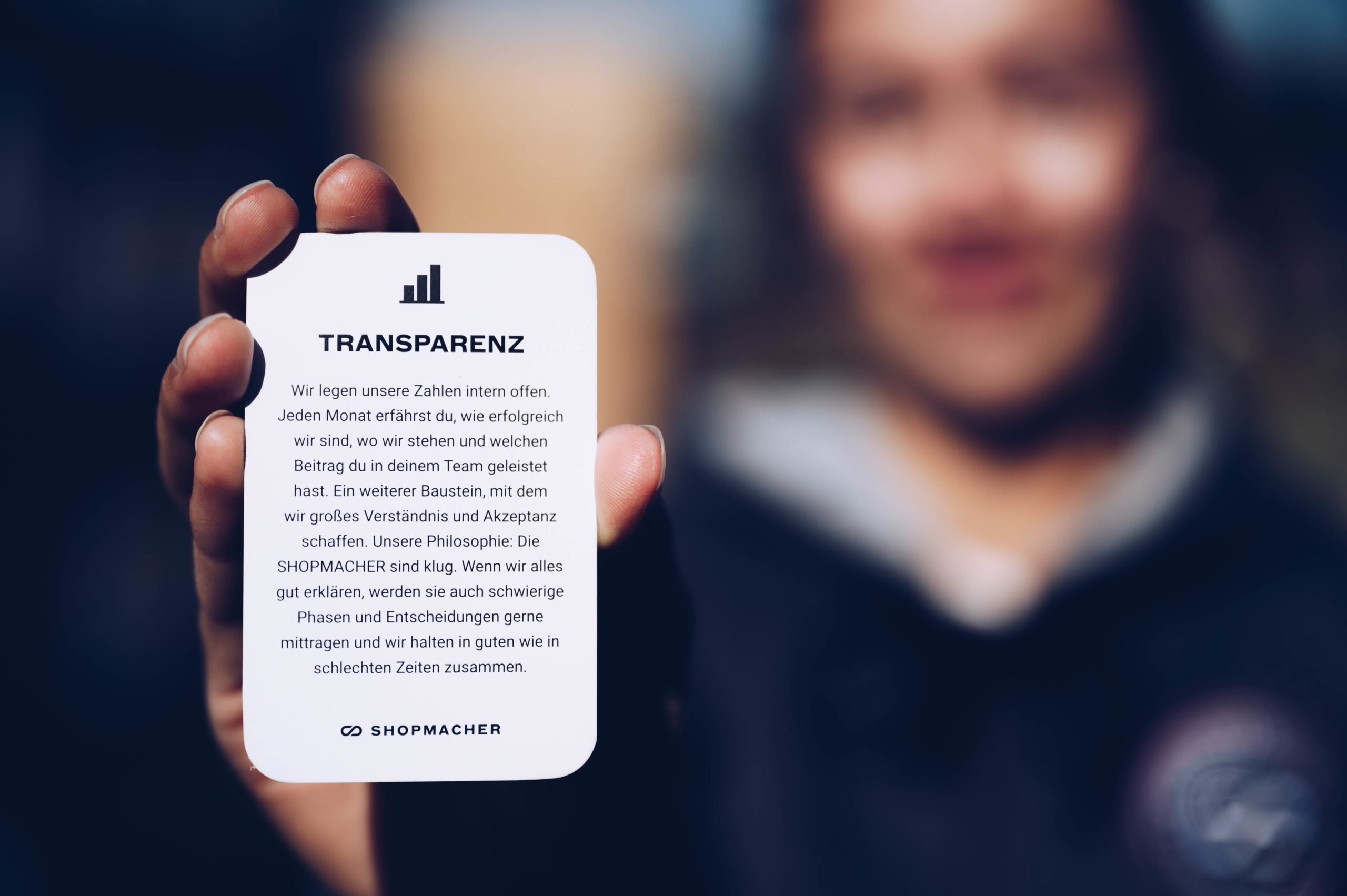 Agile
Our motto: A little bit agile is like a little bit pregnant. We are agile through and through. From the tools to the processes to the mindset of the teams. And yet we are never satisfied with it and always want to get better at it. The most important mission of our Scrum Masters.
Shopmacher Academy
We want to be the best. That's why targeted further training is a matter of course at Shopmacher. This includes internal bar camps as well as trade fairs, specialist congresses or individual training courses for specialists or managers.
No hierarchies
Many speak of "flat hierarchies". We have practically none. Only colleagues with different experiences and areas of responsibility. How do we make decisions? In discourse. The best argument wins. Not always easy – but everything we decide is widely accepted.
More net
We strive to ensure that everyone gets the maximum benefit from their salary. From day-care center subsidies to fuel vouchers to the discount system, we exploit all possibilities in a targeted manner. One wonders, but a few hundred euros net quickly come together.
home office
It's not about attendance, it's about results. Who can make their best contribution to the big picture when and where is different. Today it can be a concentrated day at home office, tomorrow pair programming in the office and the day after tomorrow a refinement marathon in confi. The team decides for itself.
job bike
Working in Münsterland means getting to work without traffic jams – every day. In summer, even the "company bike" is becoming increasingly popular. We have introduced the "JobRad" program for this purpose. Everybody can participate.
pool car
Anyone traveling on business uses our pool car. Very well equipped and ecologically sustainable. And with our e-mobile always in the first row.
breakfast
We meet every morning at the set breakfast table. Unfortunately, we all don't fit together. So we have a diverse breakfast group between 8 and 10 a.m. – developers and designers, vegans and meat lovers, all at one table.
Furnishing
Never underestimate the Münsterland: We are fiber optics! And otherwise, 1A hardware and software is a matter of honor for us. We use Atlassian, G-Suite, Facebook Workplace, Jenkins. We are not just fiber – we are also cloud.
Workation - working in the sun
We have an office and a team in Vietnam. If you want to work for us from there, you can – for a week, a month, a year… whatever suits your life.
retirement provision
We offer attractive framework agreements for company pension schemes. If you already have a contract, no problem. We'll gladly take over.
employee survey
We want to know where we are good and where we can become even better as an employer. That is why we conduct a qualitative employee survey once a year. Among other things, we determine general satisfaction and the quality of leadership. Approval is increasing steadily. In 2020 we were at 84% agreement, or an average rating of 4/5.
parking spot
More parking spaces in front of the house than employees. Real luxury for our former Rhinelanders. Normal for us. Just like a congestion-free commute to work.
beverages
Our coffee machine is a meeting point, suggestion box, place of pilgrimage, photo box, breather. And there is also coffee – from caffé latte to chochcino. And we also have water, juice, milk, tea – sometimes also beer, gin or shandy. All inclusive.
Lunch Allowance
We have our own canteen on campus. We subsidize the lunch menu there – so that you can still concentrate fully in the afternoon.
digital coaching
Nobody is born a leader. And there is no proper training for people who take on management tasks. Except life. We promote the development of our management culture by providing you with personal coaching if you want to take on management tasks.
career planning
Your personal and professional development at Shopmacher will not be a coincidence – but the result of a plan that we develop together with you. For each role in the team, we have defined which skills are required at which level. Based on your development goals, we pick out the right skills and develop them with you. Based on objective, verifiable criteria.
participation
We maintain a vibrant culture of improvement. To this end, we have launched the quarterly change workshop as an open space. There are no taboos. And otherwise, commercial and strategic considerations are shared in large groups every month. If you have ideas, get involved.
transparency
We disclose our numbers internally. Every month you will find out via team info how successful we are, where we stand and what contribution you have made to your team. Another building block with which we create great understanding and acceptance. Our philosophy: The Shopmacher are smart. If we explain everything well, they will be happy to support difficult phases and decisions, and we stick together in good times and bad.
working hours
We give early exercisers, night owls, family people, workaholics or marksmen the opportunity to organize working hours in such a way that it fits their lives exactly. It doesn't matter whether it's part-time, a short Friday or a long weekend – we're sure to find a solution. We have even developed a working time salary configurator for this.
Health
We have company health management directly in-house. The associated fitness studio incl. Showers and special conditions just one floor below us. How cool – everyone really benefits from this! In concrete terms, this means: We have our company doctor in-house, we finance a regular extended health check, we subsidize membership in the in-house gym. On Tuesdays the courses are full of Shopmacher 🙂
dogs
Where there are animals, there is life. We have a lot of life. If you like, just bring your dog with you. He just has to get along with the other (dogs).
team events
We think that if you work together every day, you should also be able to celebrate together. That's why we maintain a common leisure culture. From the summer festival and LAN parties to the nut corner baking challenge. But don't worry: everything is possible, nothing is mandatory.
Accessibility
Elevator, no interior stairs, large corridors – with us, EVERYONE can really move freely.
Public transport ticket
Would you like to use public transport to get to work? A real challenge in the Münsterland. But of course good for the environment. We support this and are happy to take over your monthly ticket.
Feelgood management
We have Claudia. Our fairy for well-being is a real godsend for all Shopmacher. Claudia has our backs free. She does the shopping, breakfast, cooks and grills for our team events, is the goddess of the coffee machine – and in an emergency she will also help out with a private workshop appointment. Basically everything that helps so that we can do a top job with full concentration.
Happy Index
We measure the Shopmacher Happy Index weekly – the quick answer to the simple question "How was your week at the office?" in school grades. The Happy Index is an important criterion for strategic decisions. Not the only one, but we always ask ourselves "What does this decision do to our Happy Index?"
Employee Discounts
How fortunate that we have so many well-known fashion customers who give us discounts. We certainly have the best-dressed developers in the entire Münsterland. And, girls – really great shoe dealers are there too 🙂
work phone
Many Shopmacher are so committed that they always and immediately want to know where things are burning. We are happy to support this mission with a service cell phone.
Friendly Contract
Short employment contract on four pages. Everything is easy to understand – even for non-lawyers.