Union Knopf digitizes B2B sales with SHOPMACHER
If you look down at your clothes when you start reading this report, it is very likely that you will see a button, zipper or other accessory from Union Knopf GmbH on your outfit. The Union Knopf Group based in Bielefeld can look back on many years of product experience. The company was founded in 1911 as a trading company with its own factory in Berlin. Thanks to innovative company and product policies, the company has developed into one of the leading button and accessory manufacturers in Europe. Around 700 employees worldwide produce and sell to specialist trade customers in 51 countries. In September 2016, the go-ahead was given for the digital B2B sales activities – and with great success. Implementation and support partners for digital B2B sales were and are Shopmacher, specialists for transaction-oriented enterprise platforms from Gescher in Westphalia.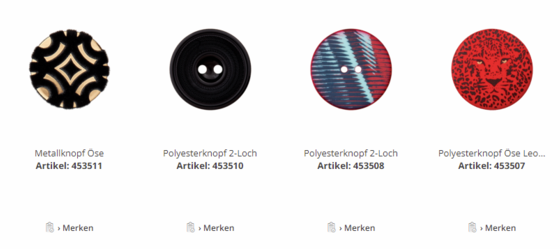 Being able to manage product lists and theme worlds yourself allows for more flexibility.
THE CHALLENGE: DIGITALIZATION OF B2B SALES
Today's B2B trade is always about accelerated business processes, maximum reach and improving service. These ambitious goals are simply no longer achievable in tough competition without distinctive digital structures. Consequently, Union Knopf was also faced with the inevitable task of digitizing the sales organization.
"At the time, we decided to get advice and support from the Shopmacher because their team has a lot of experience in designing high-selling platforms and a comprehensive understanding of B2B processes and also suggested a platform architecture that met our requirements exactly," says Andreas Bollmeier, sales expert and authorized signatory at Union Knopf. "We have not regretted this decision – on the contrary." Before the B2B platform was launched, Union Knopf only had a website online.
THE PHILOSOPHY: THINK BIG – START SMALL
"The approach recommended by the Shopmacher, to start with a fairly straightforward, easy to understand and easy-to-use platform with basic functionalities, convinced us and fitted in very well with our objectives and possibilities in an industry environment that had not been digitized until then," says Andreas Bollmeier. "The SHOPMACHER philosophy of think big – start small was just a good fit for us to find an adequate entry into the mega-topic of digitization in sales."
AND HOW THE UNION KNOPF B2B SHOP WORKS
Technologically, the platform, which is available in German, English and French in the frontend, is based on the Oxid shop system and is enhanced with the CommerceCockpit developed by SHOPMACHER. This enables the editors at Union Knopf to edit large parts of the shop platform themselves without having to have in-depth technical knowledge. This not only applies to images and text, but also to many other areas of the shop. The CommerceCockpit enables a high level of flexibility and manageability of the entire e-commerce platform.
Interested specialist trade customers can register on the platform and, following a one-time authorization by Union Knopf, will be categorized into one of nine price groups or an additional price group with individual prices. This ensures that the respective trading partner can be offered the best price. Each customer automatically sees the prices that apply to them.
SAMPLE CARDS, CURRENT FASHION BLOG POSTS AND MORE THANKS TO COMMERCECOCKPIT
The CommerceCockpit described enables the Union Knopf team to independently and flexibly design many sales-supporting elements on the platform.
The blog, which is particularly popular with small production facilities such as sewing shops, regularly picks up on current fashion trends and gives creative suggestions. Products matching a trend theme are put together and presented on sample cards. These can then be ordered in bundles if required, without customers having to laboriously list them individually. A feature that Union Knopf customers now appreciate very much.
"With the CommerceCockpit, we can edit all the individual elements on our platform quickly and easily on our own," says Andreas Bollmeier. "This gives us the flexibility that is absolutely necessary in our fast-moving industry and is very cost-saving."
INCREASE OF EFFICIENCY AND REACH AND CUSTOMER SATISFACTION THROUGH ONLINE SALES
The addition of the online sales channel has given Union Knopf's overall sales concept a greater reach and a significant increase in efficiency. Not every sale is now necessarily linked to personal customer contact by the sales force. That also lowers costs. In addition, the field service's on-site presentation options for customers have improved significantly.
"We have a wide and very varied range of products from buttons, zips and other fasteners to ribbons, appliqués and other accessories in a variety of colors and designs," explains Andreas Bollmeier. "Therefore, our online platform is also a virtually unlimited digital enlargement of the good old presentation case, which really helps our sales department in customer contact."
The Union Knopf specialist retail customers also appreciate the level of service on the platform and the convenient, fast and reliable online purchase of recurring batches.
About two and a half years after the introduction of the online sales channel with the shopmakers, the share of this channel in our overall business is still increasing every year." Andreas Bollmeier draws an interim balance. "This shows us that we are on the right path in the interests of our customers, our sales and profitability, and that we want to and will continue to do so."