Men's fashion engbers wins Shop Usability Award 2019
Our long-standing customer and partner, men's fashion engbers, won the Shop Usability Awards 2019 and confidently and deservedly secured the trophy in the Masterclass Design category. The UXme community awarded a very strong 8.9 out of 10 possible points for the performance of the engbers shop www.engbers.com. We congratulate the engbers team on this great success.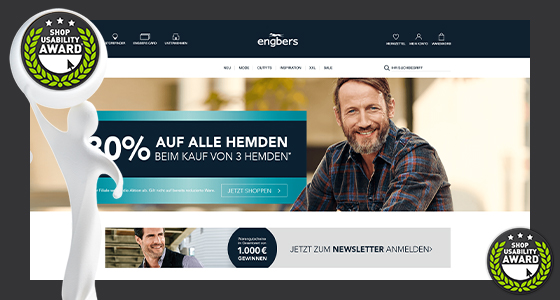 enbgers wins Shop Usability Award 2019 – Masterclass Design
MEN'S FASHION ENGBERS IS A PIONEER IN ONLINE AND OMNICHANNEL RETAIL
The men's fashion engbers e-commerce platform has been operational since 2000. Therefore, engbers can rightly be called a true pioneer in fashion e-commerce. At engbers, the motto has also been lived for years that omnichannel is the best customer service.
ENGBERS GOES THE PATH OF CONTINUOUS SHOP DEVELOPMENT WITH US SHOPMACHER
Anyone who has been successful in the highly competitive fashion retail sector for as long as men's fashion engbers can and must neither rest nor rust – neither stationary nor online. That's why engbers has been following the proven path of continuous shop development and improvement with us SHOPMACHER for years. The engbers platform recently received a complete facelift in 2018. That has paid off – as not only, but also the SUA that has now been won shows.
In close cooperation with the engbers team, we will continue to develop the online shop in the future. The aim is always to create the best possible shopping experience for engbers customers and to help our customer engbers with one thing in particular: sell, sell and sell again.