NICI online with new e-commerce platform
NICI GmbH, based in Altenkunstadt in Upper Franconia, has been producing and selling cuddly toys it has developed itself, as well as gifts and merchandising products for over 30 years. The company has now modernized its online presence and the cuddly toys greet you every day in a new online guise.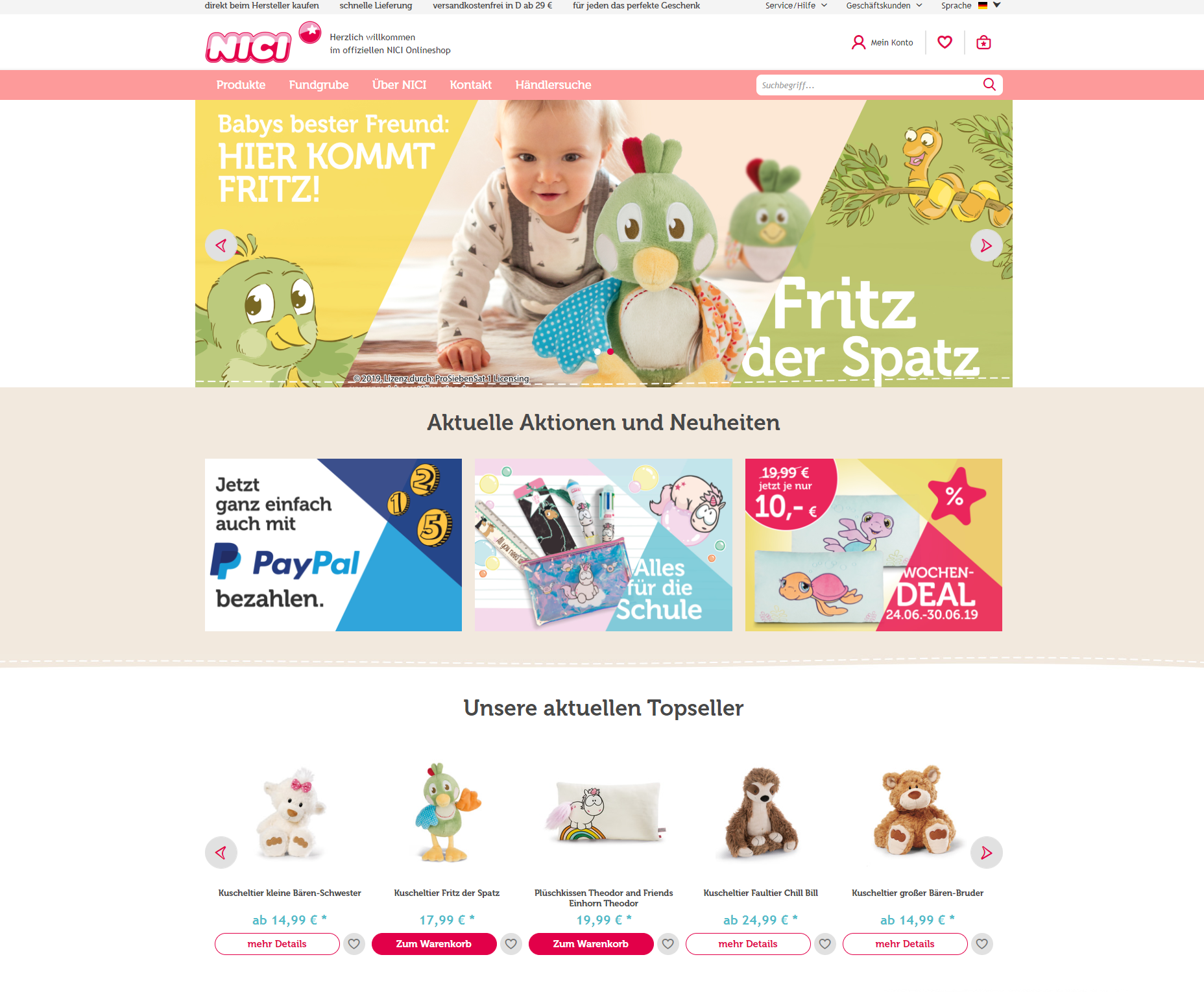 The new NICI e-commerce platform
The brand website with the brand new integrated online shop has been live since the beginning of May and was developed by the enterprise e-commerce specialists SHOPMACHER. The web shop is based on the shop software Shopware in the Enterprise Edition, the front end comes from the e-commerce design office Kommerz.
Shopmacher approach of lean entry with development potential convinces NICI
"Right from the start, we were convinced by the Shopmacher approach of repositioning ourselves with an attractive and fully functional but comparatively lean shop with a lot of potential for further development," says Ralph Steinert, Head of Marketing at NICI GmbH. "In our fast-moving industry with many seasonal features, we need a flexible shop system in order to be able to react to rapidly changing market conditions and actively start individual campaigns at any time. The Shopmacher approach of continuous development and the now active online shop fits our requirements perfectly."
The B2C shop is followed by the B2B platform for NICI trading partners
For the next development stage, the Shopmacher are currently working on the implementation of a B2B platform for commerce with NICI trading partners. This will also be an integral part of the NICI online brand presence. The B2B platform will have all relevant functionalities such as an authentication module, quick ordering, generation of orders from previous orders and some other individually developed functions that contribute to the gradual digitization of B2B sales at NICI.
"Our trading partners want such a B2B platform for their ordering processes, which will then be much more efficient," says Ralph Steinert. "We are therefore pleased that the Shopmacher will implement this platform for us in a timely manner in the next step. This is how we fulfill the wishes of our retail partners and further optimize our processes. This is the right path for NICI in the B2B sector as well."