SHOPMACHER internationalize BVB online merchandising
Borussia Dortmund has a new international BVB online fan shop for its large and constantly growing number of fans all over the world. At bvbonlineshop.com, the eight-time German champion and UEFA Champions League winner from 1997 from the Ruhr area sells black and yellow fan articles and everything a BVB fan heart desires around the world. The e-commerce specialists SHOPMACHER from Gescher in Westphalia are responsible for the development, future continuous development and ongoing support of the new international merchandising platform. The Shopmacher team had already taken over the ongoing support of the online fan shop for the German-speaking area on behalf of BVB Merchandising GmbH at the end of 2019.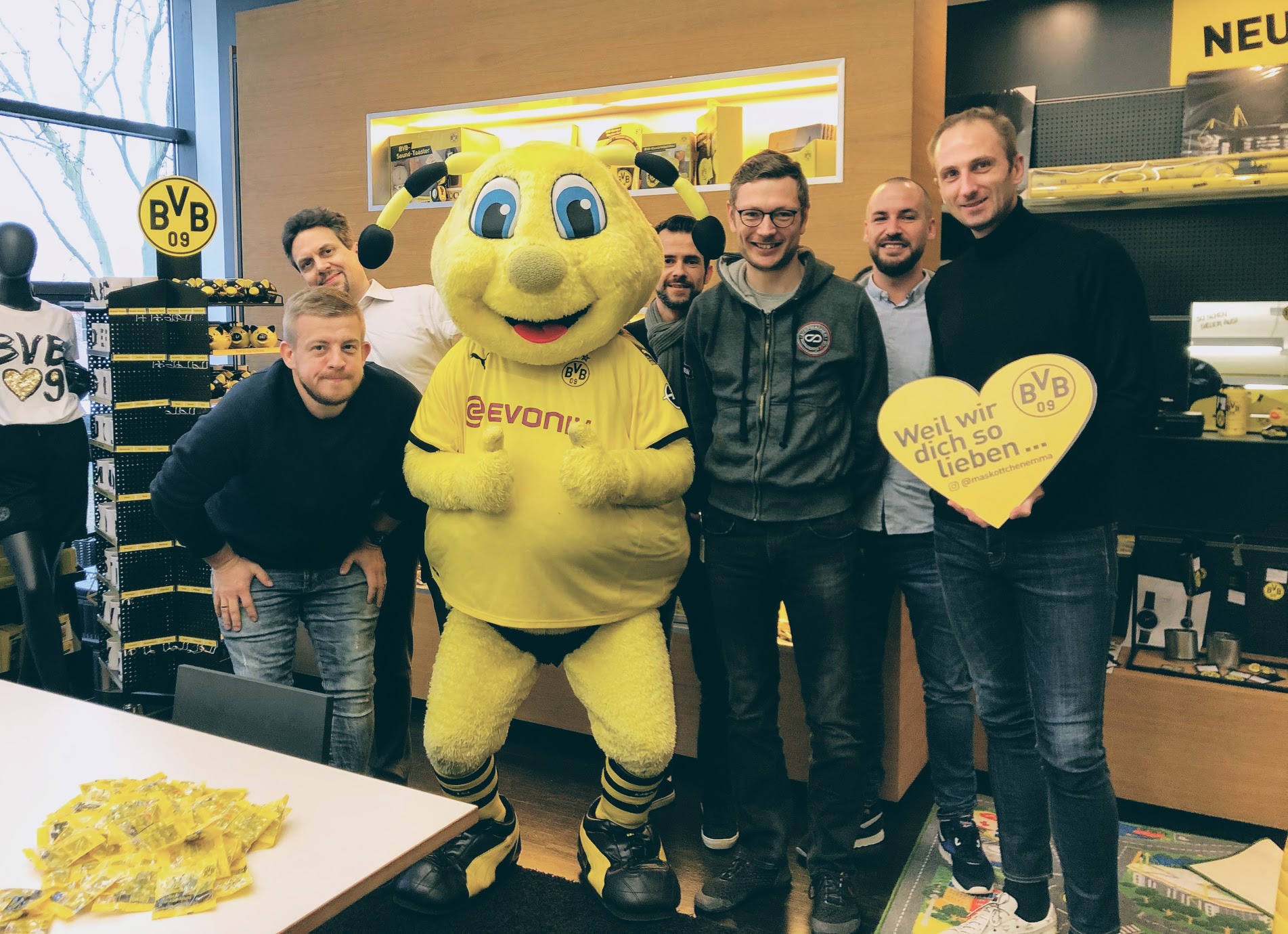 Mascot Emma, BVB e-commerce team and Shopmacher at BVB headquarters
SHOPMACHER EXPERTISE IN INTERNATIONAL E-COMMERCE
Based on the experience from various cross-border projects, the Shopmacher have exceptional expertise in international B2C and B2B e-commerce. This know-how and the good, partnership-based and professional cooperation in the operation of the German-language online fan shop had persuaded those responsible at BVB Merchandising GmbH to entrust the specialists from Gescher with the development of the new international platform.
FIVE LANGUAGES AND FIVE CURRENCIES FOR BVB FAN ITEMS PURCHASES WORLDWIDE
Like the German-language platform for B2C and B2B business, the international BVB online fan shop is based on the popular Shopware shop software. Borussia fans all over the world can extensively browse for their favorite items on an attractive and clearly arranged front end. They can choose to be accompanied on their virtual shopping spree in English, French, Spanish, Chinese or Japanese. At checkout, the customer can conveniently pay in one of five available currencies – euros, British pounds, US dollars, Chinese yuan or Japanese yen.