This has never existed before: a career website as an online shop
The Shopmacher optimize sales-oriented enterprise e-commerce platforms for their customers on a daily basis. And they are good at that. As a digital company, the Shopmacher from Gescher in Westphalia are of course in the middle of a battle for the best talent and specialists. The combination of these two facts, with the creative support of the digital recruiting specialists from YeaHR! an innovative and hitherto unique recruiting idea was born: The SHOPMACHER JobShop. Jobs in the shop – there has never been anything like it.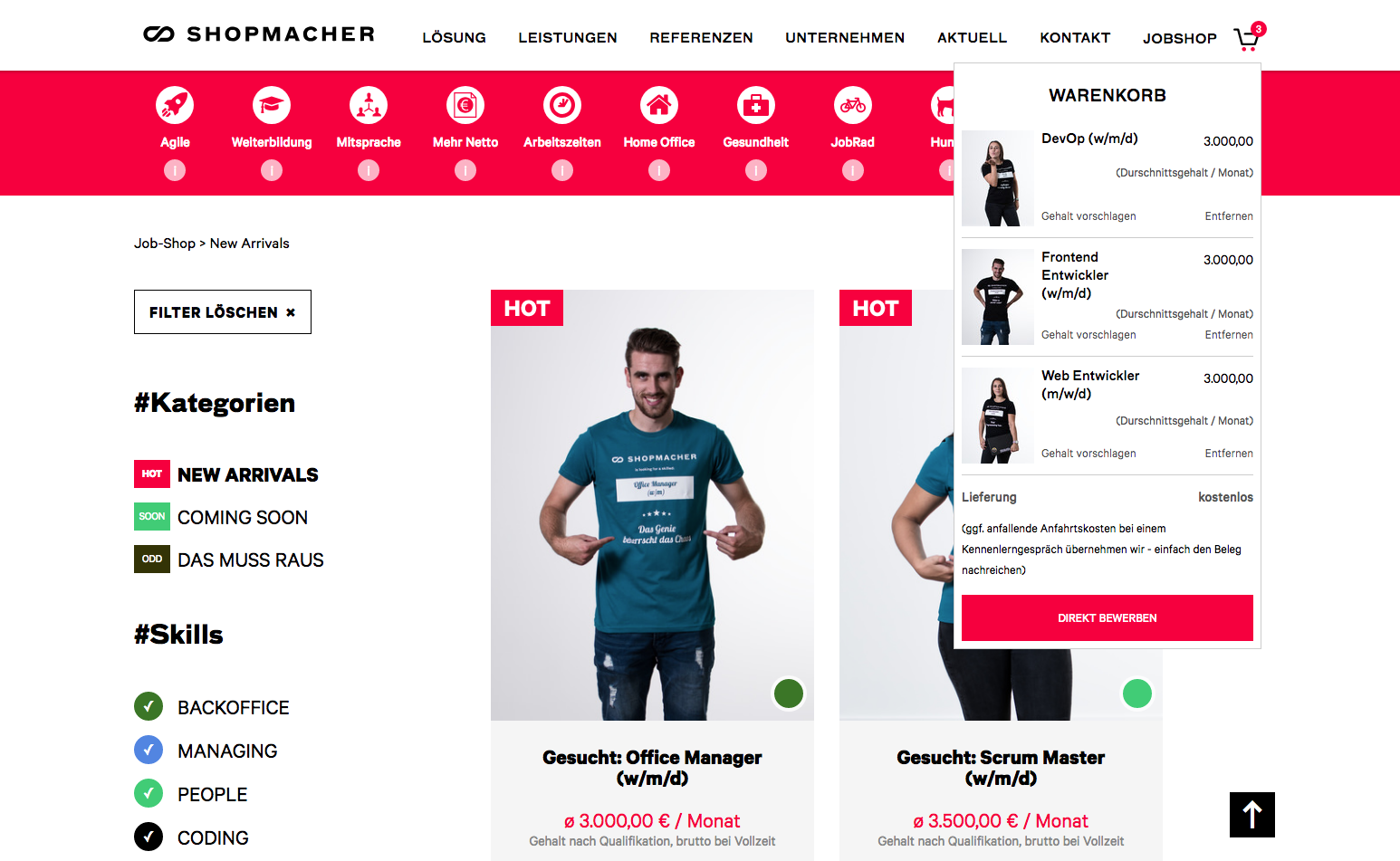 INNOVATIVE RECRUITING PATH: THE SHOPMACHER JOBSHOP
Full transparency about salaries
Suggest own salary
More net from the gross: net wage optimizer
Clever integration with Google Product Engine
HOW THE SHOPMACHER JOBSHOP WORKS
In the JobShop, jobs are presented like t-shirts by models. The product becomes the job description, the job can be placed in the shopping cart. 'Buy now' means 'Apply now'. Other functions known from web shops can also be found in the JobShop: Product ratings are kununu ratings, there are various ways of sending CVs as payment methods – the link on the Xing profile is instant transfer – those who apply by recommendation can get a discount -Enter the code. The applicant chat corresponds to the chat advisor and there is also the category "Sold out!" – here you will find old-fashioned working methods and rigid hierarchies.
CANDIDATE FRIENDLY: SALARY PROPOSAL TOOL AND NET WAGE OPTIMISER
This is also only available in the SHOPMACHER job shop: Candidates are given salary suggestions – i.e. the prices of the offers in the job shop. As with eBay, for example, buyers can suggest prices, i.e. salary expectations.
The net wage optimizer is also ambitious and candidate-friendly. From day-care center allowances to fuel vouchers and the discount system, the Shopmacher exploit all possibilities in a targeted manner in order to optimally design net salaries within the framework of legal possibilities.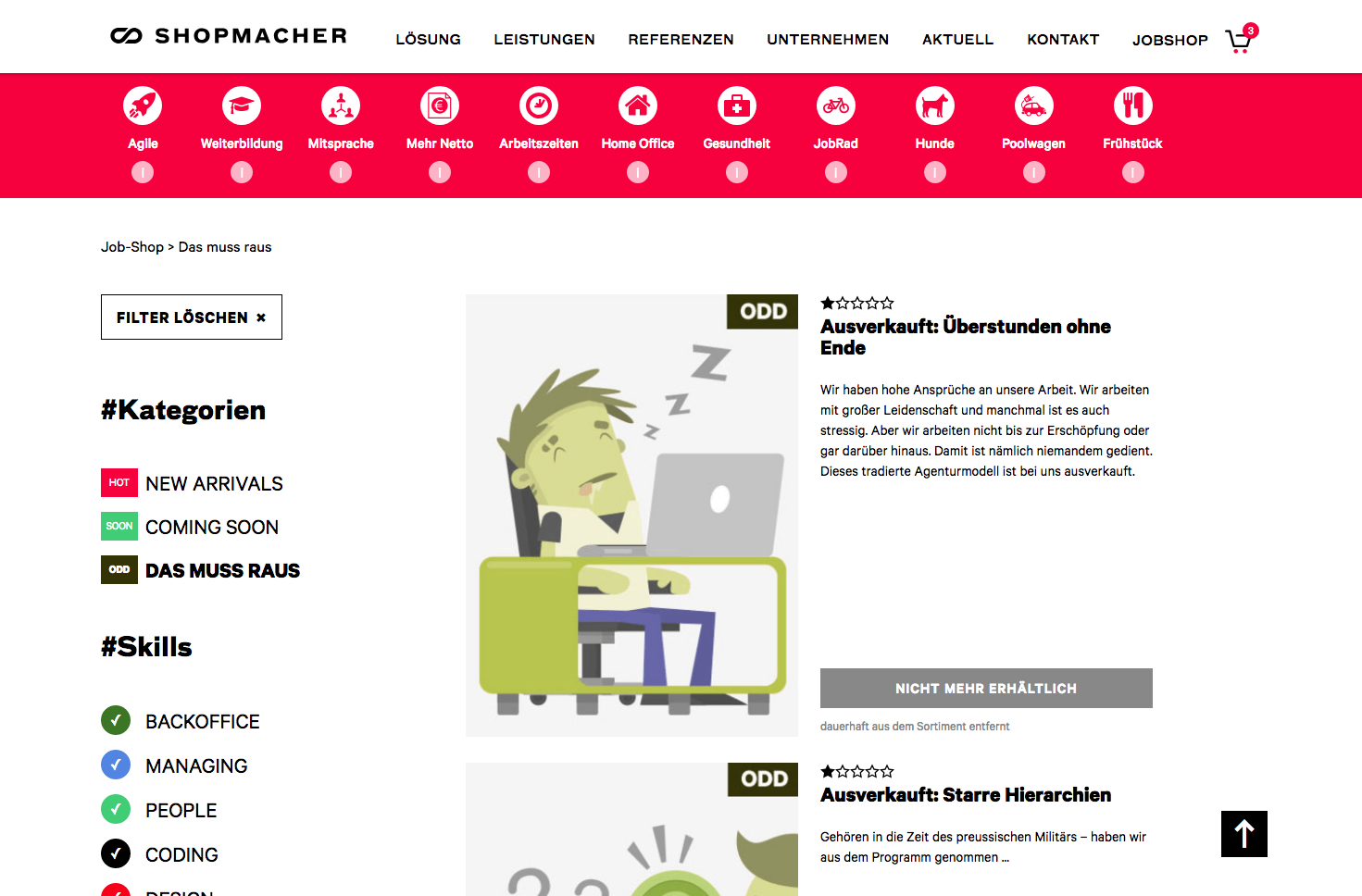 Sold out: Overtime without end, rigid hierarchies and waterfall drivel
RECRUITING IS NOTHING DIFFERENT THAN SALES
"The skills of the Shopmacher lie in e-commerce and we at YeaHR! firmly believe in recruiting via digital channels," says Andreas Herde, Managing Director of YeaHR!. The specialist agency for the digitization of HR, employer branding and recruiting provided the shop makers with creative and advisory support during the development of the job shop.
"We are convinced that recruiting is basically nothing more than sales. And when it comes to selling, the shop makers are really good for their customers," says Andreas Herde. "That's why we recommended the Shopmacher to sell their own jobs – in the JobShop."
A clever and traffic-increasing side effect of the JobShop approach is that vacant jobs can easily be fed into product feeds relevant to the target group, for example via SEA or Google Shopping. The vacancies then appear in surprising places very close to the candidate target groups. That works.
THE JOB AS A PRODUCT IS ALREADY SUCCESSFUL WITH THE SHOPMACHER
"We have been using the metaphor of the job as a product with considerable success since January 2018, even without the JobShop that has now been launched," reports SHOPMACHER CEO André Roitzsch. "The jobs are offered as products on Facebook, Instagram, Xing and LinkedIn and have since generated significantly more traffic on our careers page. Page views more than doubled from 2017 to 2018. The number of walk-in applications without an active job advertisement has quadrupled. The visibility and reach of our job offers are increasing significantly, recruiting costs have been reduced and efficiency increased. We expect a significant reinforcement of this pleasing development when our job shop goes live."