High-ranking visit to the Shopmacher
NRW Economics Minister Prof. Dr. Andreas Pinkwart is full of praise for the "Münsterland Valley".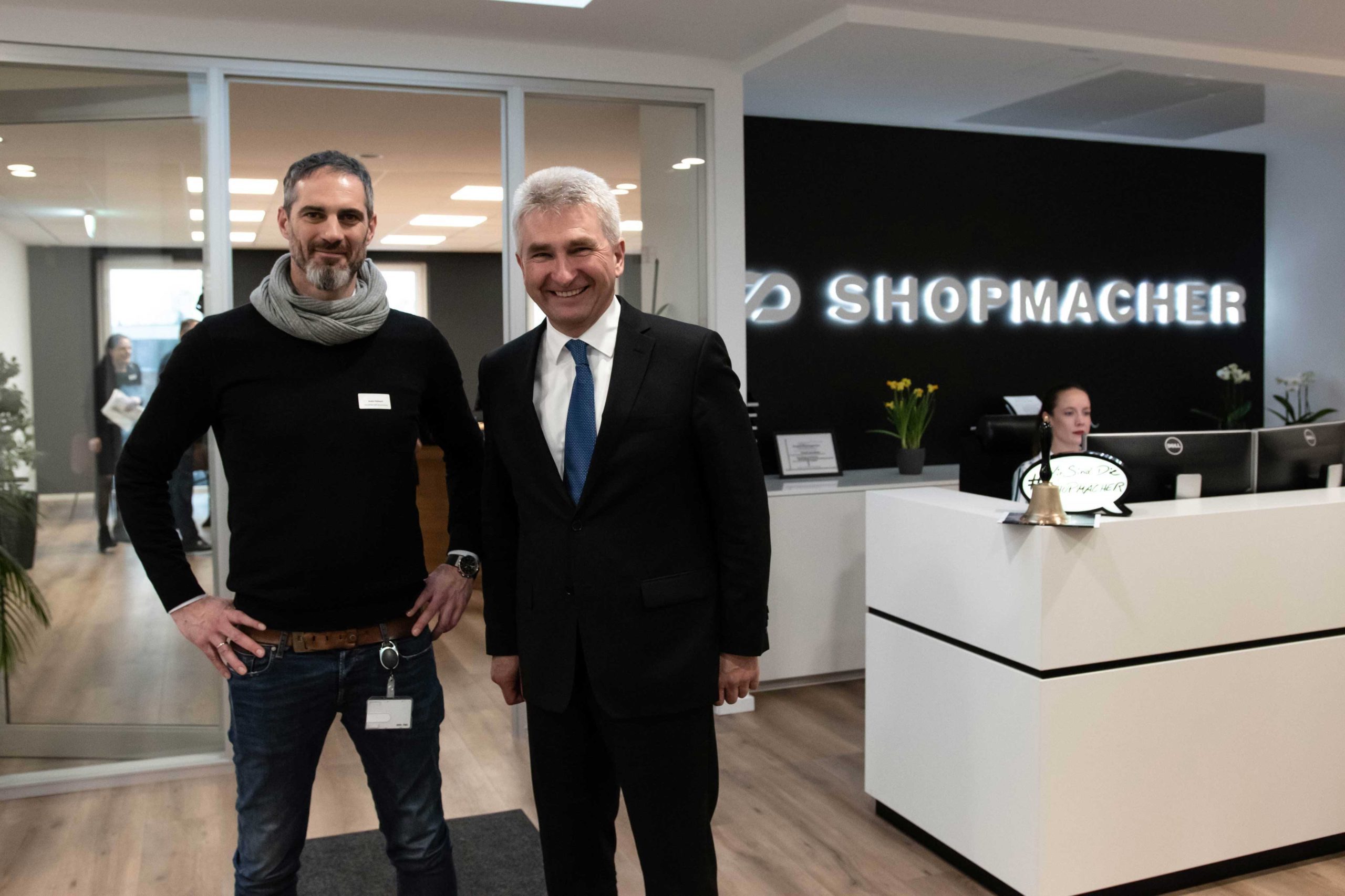 SHOPMACHER CEO André Roitzsch with NRW Economics Minister Prof. Dr. Andrew Pinkwart
High-ranking visitors, a full house, interesting discussions and a great deal of media coverage – that is the résumé of the recent "Münsterland-Valley-Day" on the campus in Gescher, the headquarters of SHOPMACHER.
Professor Dr Andreas Pinkwart, Minister for Economic Affairs, Innovation, Digitization and Energy of the State of North Rhine-Westphalia, was invited by Thomas Kerkhoff, Mayor of Gescher, the city of bells, and Dr. Heiner Kleinschneider from the business development agency for the district of Borken came to our home campus. Dorothee Feller, District President Münster, Henning Höhne, Parliamentary GF of the FDP parliamentary group and Dr. Kai Zwicker, district administrator of the district of Borken, was also part of the party. Our CEO André Roitzsch was a co-initiator and participant of the high-ranking meeting.
The focus of the meeting was the western Münsterland as an IT boom region with many attractive employers from the digital industry in general and the booming e-commerce in particular and equally attractive jobs for both young digital professionals and established specialists from the IT industry.
Minister Pinkwart expressly praised the impressive density of innovative digital companies based in the Münsterland and the resolute way in which the opportunities of digitization are being seized in this supposedly only rural region.
Our CEO André Roitzsch asked the Digital Minister to draw more attention to the Münsterland as an attractive location and boom region for e-commerce at the political level and, if possible, nationwide.
"Our region offers lucrative jobs with very interesting framework conditions for specialists from the digital industry," says André Roitzsch. "Whereas elsewhere in the so-called metropolises there is a lack of living space, high rents, a lack of childcare options, traffic chaos and many other unpleasant accompanying circumstances, employees and their families in our region find the exact opposite. In addition to a secure and interesting job, these are very tangible advantages that we would like to see become even better known."
Minister Pinkwart took up this request and promised to communicate the positive impressions received in Gescher accordingly.